3. Location - Fortaleza and surrounding beaches.
Known for its year round sunshine and exotic culture Brazil is being discovered as the worlds most exciting destination. Its people are vibrant, welcoming and the nightlife is simply extraordinary.
Beach life is a large part of the Brazilian culture and a major attraction for tourists and foreign investors.
Apart from life's pleasures, Brazil offers the investor an attractive return on investment and easy entry to the property market. The Brazilian economy and importantly the rates of interest and currency are recognized as stable and supportive for foreign investment.
We believe that Brazil currently represents the best global investment opportunity for private investors seeking to purchase in the 50,000 USD to 300,000 USD market.
More..
Statistics on Brazil :
Below are some interesting facts regarding the overall picture of the Brazilian economy.
- Brazils population is 186 million -the largest country in Latin America and 5 th in the world
- 8.51 million sq km of land (slightly smaller than the US )
- Brazil has 7,491 km of coastline of which 3,500 km are located in the NE of Brazil.
- The country's language is Portuguese, although Spanish and English are often spoken
- GDP is $619.7 billion in exchange rate and $1.579 trillion in purchasing power
- Brazils economy grew approximately 2.3% in 2005 and 4.9% in 2004. Sustained growth coupled with booming exports, healthy external accounts, moderate inflation, decreasing unemployment and reductions in the debt-to-GDP ratio. President Lula and his economic team have implemented prudent fiscal and monetary policies and pursued necessary microeconomic reforms.
- Judicial reform and an overhaul of the bankruptcy law, which should improve the functioning of credit markets, were passed in late 2004, along with tax measures to create incentives for long term savings and investments.
- To increase its international profile both economically and politically the Lula administration is seeking to expand trade ties with developing countries as well as strengthening the MercoSul Trade Agreement.
- Brazil enjoyed a positive agricultural trade balance of (USD) $38 billion in 2005. Agriculture making up 30% of Brazil 's GDP and 40% of Brazils exports.
- Brazil is the worlds largest producer of sugar cane, coffee, tropical fruits and orange juice .
Brazil has the worlds largest cattle herd (50% larger than the US )
Brazil is the second largest producer of soybeans and poultry.
- Brazil has the largest forest in the world in the Amazon Basin , they house 20% of the worlds living species and have 14% of the worlds renewable fresh water.
- Brazil has one of the most advanced industrial sectors in Latin America (1/3 of their GDP) which consists of: automobiles, parts, steel, textiles, cement, lumber, iron, petrochemicals, computers and aircraft.
- Brazil is expected to become a net exporter of oil by the end of 2006. And is also the worlds leading producer of hydroelectric power.
- During the 1990´s Brazils financial services underwent a major overhaul. Although the two major banks in Brazil are government owned the US and other foreign firms have a important share in their market.
Today Brazil has one of the most advanced banking systems in the world.
- As Brazils domestic economy has grown and diversified the country has become increasingly involved in international economic and trade policy discussions.
- Brazil´s close proximity to the US and Europe with direct flights daily.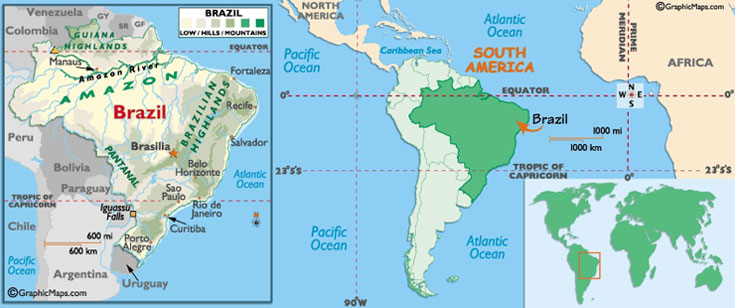 The North East is called the " Golden Coast " for the 3,500 km of palm-fringed, sandy-white beaches blessed by a continuous summer climate and the never ceasing delightful swing of the typical "forro", "frevo", "ciranda" and "lambada" dances.
Because of its climate, accessibility to Europe and the US , this region in Brazil has seen tremendous growth and prosperity in the last few years. The North East has several lively coastal cities, tranquil beachside towns and the North East has also been chosen for the Aquiraz Beach and Golf resort planned to be the largest in Latin America .
More..
This North Eastern part of the country with its rich culture and perfect climate is 7 hours closer to Europe and the US than southern Brazil . Major airlines have daily flights from London (9 hrs), Miami (10hrs) and Lisbon (6 hrs) making it an easy and desirable location to own a second home or find yourself relaxing on a palm swept beach.
Europe is literally connecting with Brazil , particularly via Fortaleza with direct flights from Germany , Netherlands , Spain , Norway and others.
The people and the culture are an extricable mixture of Portuguese, African, Dutch and French origins tempered with the strength and beauty of their own environment.
Each of these cultures coming together offers a rich environment for food, music, dance, drinks, art, crafts, architecture and love of the sea.
The North East has architecturally diverse cathedrals, town centers with quaint winding passages, historic sites, sandy beaches, crystal clear blue and green waters, coral reefs with a vast marine population and endless water sports possibilities.
3. Why, Fortaleza and surrounds.
Within a few years Fortaleza will become a major international tourism destination and will outshine the existing destinations in Brazil.

The time zone in Fortaleza is GMT-3 which is a strong practicality should you need to work in the US or Europe during your stay. Most SandGardenHome projects have WI-FI internet installed

Fortaleza is Brazils most favorite holiday destination .This is a tremendous accolade considering the Brazilian's love of beaches and their enormous range of national destinations. Additionally this region has one of the best year round climates on earth.
Fortaleza is a beautiful city with a safe, relaxed atmosphere, sophisticated lifestyle to rival many European cities and of course the nightlife is superb!
With several world class beaches 1 hour or less by car from Fortaleza to choose from and the current low prices this are offers, the greater Fortaleza coastline offers an unrivaled investment opportunity. The beach front land prices are already rising sharply, becoming harder to source and tourism is although by appearance exploding, still in its infancy. The international airport is now in the process of bringing forward its 100% expansion plan to cope with the future arrivals.
See our project locations for more detailed information on why the sites represent a unique investment opportunity.
Within a few years Fortaleza will become a major international tourism destination and will outshine the existing destinations in Brazil
More on Fortaleza .
Fortaleza is located 10 degrees from the equator, has 3 thousand hours of sunlight per year and the constant ocean breeze make it an unprecedented tourist attraction.
Sitting on the Atlantic coast, Fortaleza 's waterfront has an average temperature of 25-28 degrees with its greenish-blue water warm all year round.
Fortaleza is the state capital of Ceara, located in the North East of Brazil with a population of over 2 million. It is the second most important city in the region in economic terms and Brazils fastest growing city. For well over a century it has been the major commercial center of the northern half of Brazil and appears to be set to become a major international link.
Fortaleza is a major fishing port and the fastest growing tourist destination in the North East of Brazil. Most recently it has poured its resources into expanding its tourism trade, lining the fine city beaches with gleaming luxury hotels and developing the city center.
Due to its timeline of entry into tourism Fortaleza is set to be a low rise, high quality and environmentally friendly development location. This is in stark contrast to other major locations on the North East such as Natal where mass tourism was introduced with little control and high rise developments now scar the coastline.
Fortaleza is now a large modern city where bold new architecture contrasts with its original historical charm and beautiful beaches. It has fantastic shopping from street stands to mega-malls, cinema complexes and an unlimited array of fantastic nightlife.
The city is rich with history and offers a variety of day and night time entertainment. You can visit the old cathedral, theatres and cinema, shop in the market "Mercado Central" known for its lacework, embroidery, leather goods and ceramics, walk along the quaint roads and stop into one of the many restaurants strung along the seafront taking time to refresh yourself with a Caipirinha and end your adventure at one of its many beaches.
The Praia de Iracema beach east of town is preferred by intellectuals, bohemians and night partiers. The Praia do Futuro beach is preferred by swimmers, surfers and families. and it offers over 50 beachside restaurants and bars spread over kilometers of beautiful Brazilian coastline. Along the Avenida Beira Mar there are beaches, such as Meireles and Mucuripe; here the walkway is wide with plenty of space for joggers and walkers. The beaches are also a focal point of nightlife and entertainment.
The New York Times reported Fortaleza to have the "Hottest Monday Night in the World". With its lively music, festive energy and casual beachside atmosphere. Fortaleza has a wide selection of shows, discotheques, restaurants, bars and beach parties with literally something to do every night.
Activites in Fortaleza :
-Visiting the city center to shop. Diverse shopping with a Brazilian influence
-Strolling the waterfront, Beira Mar, Irecema. Great people watching, ice cold coconuts or cocktails.
-Dragao do Mar. Fortaleza's cultural centre with theater, dining, nightlife.
-Shopping Iguatemi and Aldeota. World class shopping malls with international brand stores.
-Water Sports. Range of boating, diving, snorkeling, jet skiing
-Action Sports. Surfing, truly world class wind surfing and kite surfing,
-Dune Buggy rides
.Please visit our projects pages for more localized information.
Click here to see Buyer Information